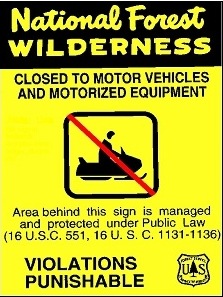 This wild places program is about motor vehicle intrusions into National Forest wilderness. This additional story came out of the interviews for our previous program number 23, Drawing Lines in the Snow.
The National Forest wilderness near Bear Valley, California, has a problem similar to a lot of wilderness areas. Some motorized recreation users, in this case snowmobiles, don't respect wilderness boundaries. This kind of thing happens with different kinds of vehicles year-round, but it's especially difficult to police in the winter. Find out how big this problem is, and what you can do about it.
When we first conceived The WildeBeat, we wanted a big part of it to be listener participation. Thanks to those of you who sent us some good ideas. But we really want to encourage a lot more.
As an experiment, we'd like to launch a second podcast feed. This second feed, as yet unnamed, will consist almost exclusively of listener-contributions of news and ideas that you leave on our comment line, or e-mail to us as audio or text files. (Please see our contribute page for help on commenting by e-mail.) Shows based on these contributions will be published irregularly, whenever we collect at least a couple of minutes of usable content, or whenever that content contains important breaking news.
We need to hear from you!
Contribution ideas:
Tell us about your favorite, under-appreciated, wilderness or backcountry area.
Solicit volunteers for an organization that helps people discover wilderness recreation.
Announce an outing or other activity your club or group is sponsoring.
Tell us about a special outdoors skill you have or wish to develop.
Provide news about conditions or issues relating to one of your local backcountry or wilderness areas.
Add to, comment on, or correct anything you hear on our shows.
We're interested in any comments you'd like to make about the WildeBeat, or about wilderness areas or activities. When we have enough listener-contributed material, we'll announce the new feed.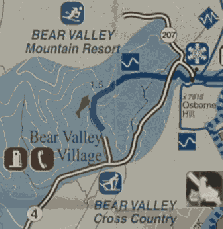 This wild places program is about conflicts over the use of winter recreation areas in national forests. Backcountry skiers and snowshoe hikers can be disturbed by snowmobilers. But are they actually seeking such different things?
Bear Valley, California, is popular with snowmobilers, skiers, and snowshoe hikers alike. The National Forest and the community are looking for ways that they can all get along. Find out what happens next...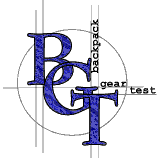 This gear program might give you some holiday shopping ideas. Steve asked three volunteer editors from Backpack Gear Test to pick their favorites: Rick Allnutt1, Jim Sabiston2, and Edward Ripley-Duggan3. Out of thousands of reviews published on BGT this year, they recommended these:
You can provide gear reviews as well. You'll start out by reviewing gear you already own, and then you might be able to get other free gear to review. Read: How to become a tester.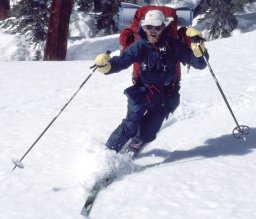 This skills program is an interview with Marcus Libkind. Marcus wrote the most comprehensive and widely used trail guides for backcountry ski tours in the Sierra Nevada:
If you want to explore the backcountry on skis, Marcus recommends getting lessons and practice at groomed-track cross-country ski resorts first. The Cross Country Ski Areas Association has a directory of them. One good beginner's guide to winter backcountry skills is Allen & Mike's Really Cool Backcountry Ski Book.
In program 19 we reported on the clean-up of a former marijuana plantation in Big Basin State Park. The organization who provided the labor for that clean-up have posted some pictures: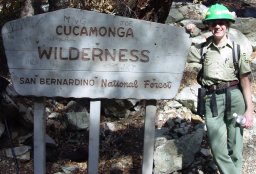 This wild places program explores Southern California's most undiscovered National Forest wilderness, the Cucamonga Wilderness. The Cucamonga straddles the border between the San Bernardino National Forest, and the Angeles National Forest. It's the least-visited wilderness in the greater Southern California region.
Steve got into the wilderness with wilderness ranger Sharon Barfknecht, and district ranger Gabe Garcia. They met at the Lytle Creek Ranger Station, and then day-hiked from the Middle Fork trailhead. They hiked a few miles up the canyon of the middle fork of Lytle Creek.
There's another trailhead on the west side in the Angeles National Forest. This trailhead is in Ice House Canyon. It's a much more popular way to access the Cucamonga Wilderness.
The California Wilderness Coalition has proposed some additions to the Cucamonga. They publish a map of their proposed additions. Gabe Garcia provides some news on that effort.
The National Parks Conservation Association (NPCA) published a press release titled, Congress Examines Drug Trafficking in National Parks. Here's an excerpt:
Illegal marijuana cultivation within Sequoia National Park, for instance… has had serious consequences on the safety of park staff and visitors, the experiences of visitors, and the park's already-tight budget," NPCA Central Valley Program Manager Laura Whitehouse testified before the Parks Subcommittee of the House Resources Committee. "The parks are in desperate need of increased backcountry patrols, and helicopter time to patrol and conduct surveillance of these hard-to-find growing areas. Without further investigation of marijuana activities within the parks, park resources—as well as visitors and park rangers—are in danger."
It's interesting that the NPCA testified before congress on this issue on the same day we issued our edition on the subject.

Big Basin Redwoods. We explore the problems caused by a five-acre marijuana plantation hidden in the park's backcountry, and follow the volunteer group who provided considerable labor to clean it up.

Marijuana cultivation is a growing problem in public lands, especially in the Pacific west. Marijuana demand is increasing, our borders are tightening, and budgets for managing our public lands are being cut. National Parks, National Forests, and State Parks are increasingly attractive to organized crime for use as cultivation sites.

You can help in two ways: 1) By refusing to fund the black market for marijuana production, and 2) by volunteering for or donating to volunteer organizations who provide labor to restore these damaged ecosystems.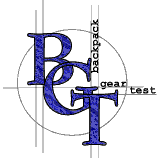 This gear program presents reviews of three lightweight camp stoves. The reviews are provided by volunteer reviewers from Backpack Gear Test.
Rebecca Sowards-Emmerd reviews the Jetboil Personal Cooking System. Will Rietveld reviews the Brasslite Turbo II-D alcohol stove. Leesa Joiner reviews the Brunton Raptor stove.
Ryan Jordan, who I interviewed for this week's show, wrote to remind me that he edited and published a more advanced book on lightweight backpacking techniques than any I mentioned in the show notes. Ryan's book is titled LIGHTWEIGHT BACKPACKING AND CAMPING: A Field Guide to Wilderness Hiking Equipment, Technique, and Style
If you want to read all of the books mentioned in this post and this week's show, I recommend doing it in this order:
This skills program explores lightweight backpacking. Ryan Jordan of Backpacking Light: The Magazine of Lightweight Hiking and Backcountry Travel talks about the lightweight backpacking movement.
Steve interviews Don Ladigin, the author of Lighten Up! (A complete handbook for lightweight and ultralight backpacking.).
Here are some other useful sources of information about lightweight backpacking: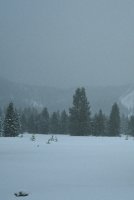 This skills program tells the rest of the story of backpacker Mike Bargetto and his three relatives, who were caught in an unexpected snow storm in October of 2004. The story describes their rescue from their Rae Lake camp site, in California's John Muir Wilderness.
The rescue was lead by Leutenant Phil Caporale, of the Fresno County Sheriff's Search and Rescue unit. He and Mike tell the story of the rescue from both perspectives.
Steve wraps up the show by talking about how you can be better prepared for unexpected mountain storms, and how to stay safe in such conditions. See the supplemental links, below, for lots of additional information.
You can now give us news tips and reports, or tell us what you think about the show, on our new toll-free listener comment line:
866-590-7373
To find out how to leave a message that we're most likely to play on the show, visit our Contribute page.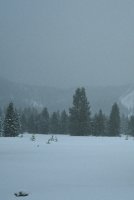 This skills program tells the story of backpacker Mike Bargetto and his three relatives, who were caught in an unexpected snow storm in October of 2004. The story describes their hike in California's John Muir Wilderness from Courtright Reservoir to Rae Lake, and the conditions they encountered there.
In part two, we'll present the rest of Mike's story, and some advice for safely enjoying late season wilderness travel.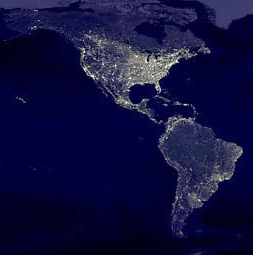 This wild places program is about the science of night time in wilderness. How does the sky glow from cities, and light pollution in general affect wilderness areas?
Steve interviews Chad Moore, a physical scientist with the National Park Service, and leader of their night sky research team. He talks about measuring light pollution in the parks.
Steve talks with Dr. Travis Longcore, the science director of the Urban Wildlands Group. Along with Catherine Rich, they edited a book, Ecological Consequences of Artificial Night Lighting, which contains the definitive collection of scientific papers on the subject.
Both Chad Moore and Dr. Longcore mentioned that the International Dark Sky Association is a good place for all kinds of information related to light pollution, it's prevention, and dark-sky science in general.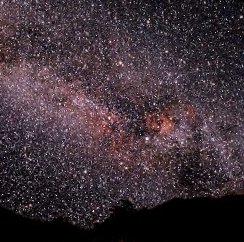 This wild places program is about places where the wilderness is particularly good at night. Steve talks to some amateur astronomers about their passion for the darkness of the backcountry.
Chad Moore, a physical scientist for the National Park Service, tells us about National Parks where the sky is really dark:
Mike Koop, president of the San Jose Astronomical Association, gives us some tips for exploring the night sky. He suggests printing a star chart from SKYMAPS.COM, and using binoculars.
Part 2 will be about the science of darkness in The Wilderness at Night.
The WildeBeat was the subject of Episode 56 of Vox Monitor, a podcast review podcast. [Warning: Contains adult language]
Eric and Cohry, the hosts, have some fun at our expense. They say that the show is not their cup of tea (or pack of smokes?). But in spite of whatever they're smoking, they generally praised the show overall.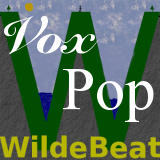 This outings show is our first Vox Pop. Does the average person value getting into the wilderness?
Steve recorded the candid thoughts of these hikers on the Pine Ridge Trail, in the Big Sur River Canyon of California's Ventana Wilderness. They hiked ten miles each way to visit the popular hot springs at Sykes Camp.

This skills program is about the job of being a backcountry ranger in national forest wilderness. It's a frequently romanticized job with lots of responsibility. Three rangers talk candidly about their experiences.
Sendi Kalcic and Brent Carpenter are professional backcountry wilderness rangers who have worked in the Desolation Wilderness of the Eldorado National Forest near Lake Tahoe, California. Amy McElvany is a volunteer wilderness ranger in the Sierra National Forest, working out of the High Sierra Ranger District.
At the end of the show, there's a correction from last week's show, and a request to offer your feedback and suggestions for the show.